Beavers are herbivores - they don't eat fish!!
Beaver dams and habitats can reduce flood risk
Beavers create wetland habitats that help wildlife
Beavers help people by improving water quality
Beavers in Wales
The Welsh Beaver Project has been investigating the feasibility of bringing wild beavers back to Wales since 2005. This work is being led by North Wales Wildlife Trust on behalf of all five Wildlife Trusts in Wales as part of our Living Landscapes strategy and we now hope to undertake a managed reintroduction to Wales.
Beavers are known as nature's engineers. They make changes to their habitats which create diverse wetlands for other species to thrive.
Why are beavers important?
Beavers were once widespread across the Wales, but due to over hunting by humans for their fur, meat and scent glands they became extinct after the Middle Ages in Wales and by the end of the 16th Century they were extinct from the rest of Britain.
Beavers are very special animals because they play a vital role in enriching biodiversity by restoring and managing river and wetland ecosystems. They are known as a 'keystone species' because their activities can benefit a wide range of other animals and plants that live in rivers and wetlands.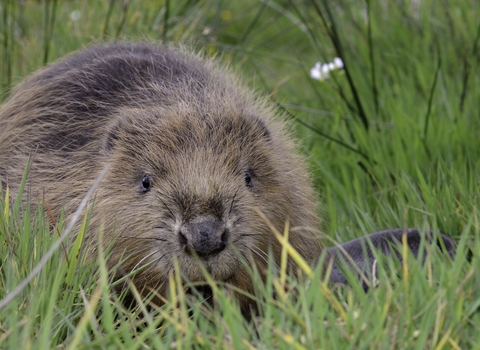 Visit our beavers
Beavers will be released into an enclosure at Montgomeryshire Wildlife Trust's Cors Dyfi Nature Reserve, where they will assist with habitat management on the reserve. Once the beavers have settled into their new home you will be able to visit. Further details will be available soon!
Thank you to everyone who responded to the NRW consultation for the Cors Dyfi beaver enclosure. The consultation has now closed and we are very grateful for all of your support. We are currently waiting for feedback from NRW and we will be sure to let you know once we have some news.
Want to know more?
Beavers are amazing creatures, we've got loads of information that we'd love to share with you... Facts about beavers, case studies and how we can learn to live with them again!
The Wildlife Trusts play a very important part in protecting our natural heritage. I would encourage anyone who cares about wildlife to join them.