What jellyfish have you seen?
There are thousands of species of jellyfish in the world but only a few are commonly spotted in UK waters. Read our guide to find out what jellyfish you might have seen on local beaches near you. Remember not to get too close, jellyfish can sting!
Compass jellyfish -  A translucent yellowish-white jellyfish with brown markings around the fringe and on the top of the bell. Those atop the bell resemble a compass, with V shapes radiating out from a central point. They have a bunch of frilled oral arms below the bell. They often wash ashore in summer months.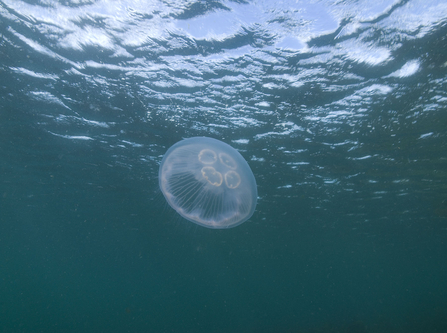 Moon jellyfish - These are the most common jellyfish in UK seas and often wash up on our beaches. Around the size of a plate, they are recognisable by the four circles visible through the translucent white bell. You can usually see these jellyfish floating just below the surface of the water. Moon jellies have short, delicate tentacles that hang down from the sides of the bell
Barrel jellyfish - The largest jellyfish found in UK seas. They are translucent with a huge mushroom shaped bell and a bunch of 8 frilly tentacles below. They don't have marginal tentacles, but do have a violet fringe around the bell. They are often found washed up on beaches in May and June.
Lion's mane jellyfish - It's easy to see where they get their name from. The long, flowing tentacles that surround the bell have the beauty and bite of a lion! A translucent brown to reddish jellyfish with a thick mane of hundreds of long hair-like tentacles; the oldest of which are coloured dark red. They have thick, frilled oral arms under the bell, most often brownish in colour.
Mauve stinger jellyfish - fairly uncommon in the UK, this jellyfish usually appears a bluey purple colour with a globe shaped umbrella covered in orangey brown warts. Long, thin tentacles hang down from around the bell, reaching a maximum of 3 metres.
Blue jellyfish - A typical looking jellyfish, with a dome-shaped bell and stinging tentacles trailing underneath. The bell colour depends on maturity and can vary from pale yellow to purple. Paler individuals are easily confused with the larger lion's mane jellyfish.