Stand for Nature Wales
Stand for Nature Wales is a pan-Wales youth climate change project with a big ambition! 
The six Wildlife Trusts in Wales have come together to tackle climate change with the help of the young people of Wales. For the next three years, we will work to empower and inspire young people to take action for nature and wildlife in their local area in a bid to tackle climate change. From urban Cardiff to rural Montgomeryshire, young people are standing for nature and their futures. The project is funded by the National Lottery Community Fund.
Young people in Wales are taking a stand
They are fighting for our beautiful blue seas, our gorgeous green woodlands, and our precious wildlife.
Will you join them?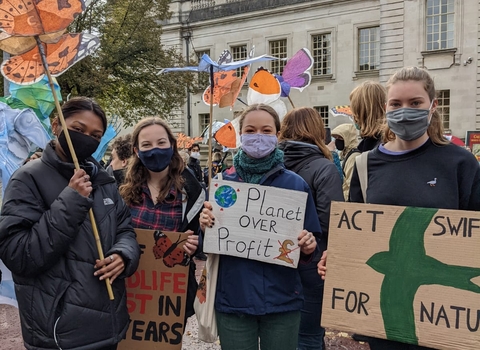 Why now?
There has never been a more important time to take action for nature. We are currently facing a climate and nature emergency, with 17% of species in Wales at risk of extinction. But we can change this. By putting nature into recovery, we can and will tackle climate change. Thriving habitats can safely lock up vast amounts of carbon, while providing other vital benefits that help us adapt, such as flood prevention, clean water and improved health and wellbeing.
Our natural world is in trouble; this is no secret. But there is still hope! Projects such as Stand for Nature Wales give future generations the skills and knowledge and more importantly, the passion to stand for nature. I am delighted to see this incredible project launch today and can't wait to see what the young people of Wales achieve!
Get involved in your local area
We've got staff dotted across Wales, get in touch with your local Wildlife Trust to take climate action in your area!
I joined this project because climate change should be at the forefront of everyone's mind and I feel this project, along with others, can enable that to become a reality if enough people join the cause. It's the start of something that can become a country-wide participation.