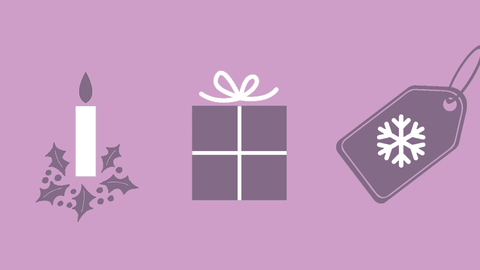 How to have an eco-Christmas
Whether you celebrate a big family Christmas, or you just give out a few cards to your friends and neighbours to wish them a happy time, here are some quick tips for a greener Christmas!
Gifts
Buying gifts can be a challenge at the best of times, but don't panic! Making sure you give planet-friendly presents isn't as tough as you might think – here are some tips to help you along the way:
Look out for gifts that come with as little packaging as possible, or at least some you can recycle.
Why not put together a zero-waste kit? Think about including things like a portable cup, a metal or bamboo straw, or some wax food wraps! Look for more ideas in our shop.
Make something yourself! You can choose your own packaging, and the personal effort makes a gift priceless!
 
Wrapping it up
Of course, choosing the gift is just the beginning – think before you wrap it up:
Shiny wrapping paper is pretty, but it's not recyclable! The same goes for glittery paper. Use brown paper for a lovely vintage look.
Sellotape is made of plastic, but don't panic! You can get brown paper tape, or get creative with some ribbon or string. Better yet, go for a reusable option like a box, bag, or cloth!
Don't forget your Christmas cards while you're at it – the same rules go for glittery and shiny cards! Watch out for the plastic wrappers too, so try to find ones sold loose or packaged differently, or have a go at making your own! (Bonus points for recycling last year's cards!)
Avoid throwaway plastic, go homemade, and keep wildlife in mind. It'll add a sweet personal touch that'll mean the world to someone this Christmas!